Top 5 Lock Pick Sets for Beginners
If you're looking for beginner lock pick sets reviews, you're in the right place to learn an exciting skill that just keeps giving. Whether you want to learn a cool new skill to keep your hands and brain busy, or if you want to be a locksport participant or whether you want to learn skills essential to being a locksmith!
Just click on the images below to go to the individual pages!
And this is from someone who has picked thousands of locks! We have a world-respected team here with literally hundreds of years of lock-picking experience between us. So let's begin - what makes a good set?
With hundreds of tools and sets on our site, knowing where to start in choosing your first lock pick set can appear daunting, but it's really quite simple. If you have a few locks and access to our complementary "how to lockpick" guide, all you need is a decent set of lock picks and you're ready to go. If you're just beginning, we offer the five best lock pick sets for starting out that include everything you need: practice locks, a guide, and our great selection of picks.
At UKBumpKeys, you have access to all the tools and information you need to make lock picking a real possibility. Many people who come to us are picking locks almost immediately and develop excellent lock picking skills.
Here are summaries of our time-tested and best-selling beginner lock pick sets. These are the picks we use, the ones we supply to professionals from locksmiths, the military, the police and other emergency services, as well as various world champion lock pickers. They all started at the beginning!
We design, manufacture and routinely use the picks we sell.
If you're totally new to lock picking, the choices can be daunting. Let us make it easy for you to become Houdini by providing everything you need to start your amazing journey.
This set contains a detailed instructional guide, practice locks, and picks – everything you need to be opening locks immediately. Perfect for a gift, especially for yourself.
The perfect lock pick set for the dedicated lock picker. We sought the experience and knowledge of professional and world-champion lock pickers around the world when devising this set, and have created something both unique and devastatingly effective.
Eight of the finest picks but supplied in two gauges, (16 picks in total) slimline, and ultra-slimline, with a range of tension tools that perfectly compliment this professional selection.
Our Praxis picks are Bosnian Bill's (Lock-Lab) set of choice, and will take you from the start of your journey to as far as your skills take you.
5 STARS FOR OUR PRAXIS SET
Universally praised by all reviewers

Perfect two thicknesses for all locks.

Easy to learn to use - just like our other products

Watch the Lock-Lab Video Review below
One of the most frequent questions we are asked is "What's the best set for a beginner?" I finally answered that question for the last time by designing the Serenity set. An introductory lock pick set needs to be punchy, compact, no-nonsense and high quality.
But more – I wanted to make a starter set that didn't need to be replaced, one that would last well into the future. There's no reason a starter set needs a shelf-life. The Serenity lock pick set offers an affordable professional selection with no limits.
AND LASTLY...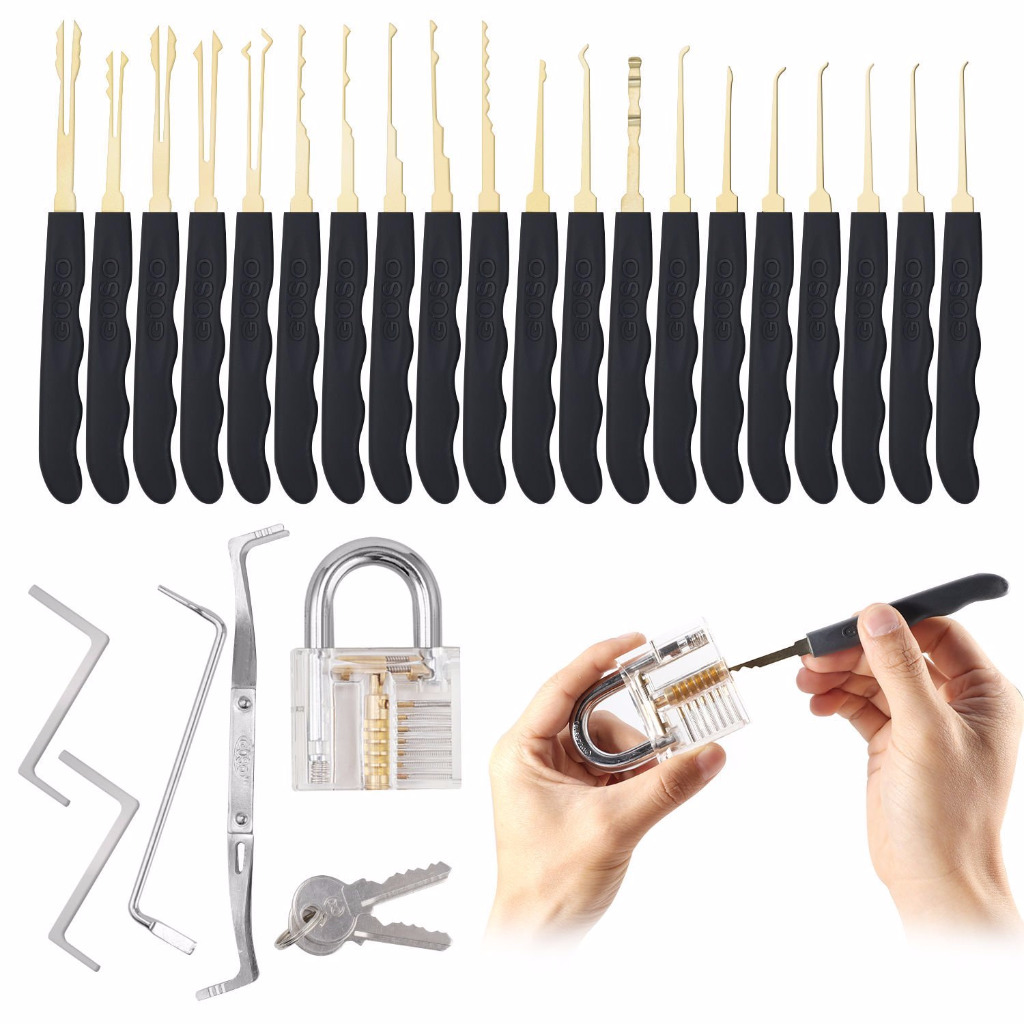 One More Thing ...
SouthOrd has long been a reliable name in lock picking quality. Beautifully designed picks that have stood the test of time. The SouthOrd PXS-14 contains a great range of picks and tension tools, with comfortable grips for those wanting a more ergonomic feel. This is a consistent best-selling lock pick set that will compliment your developing skills perfectly.
This contains a complete selection of rakes, picks and tension tools. Molded handles make this an appealing set for the beginner and the fine selection of rakes add to the appeal for people looking to open locks quickly. A selection of comb picks (for padlocks), 6 tension tools, and a drag-rake make this an excellent option for anyone looking to learn the art of lock picking.